Boris Herrmann & Pierre Casiraghi
Monaco 26th March 2021 – Monaco Ocean Week meetings ended with a talk organised by the Yacht Club de Monaco attended by its President HSH Prince Albert II and led by Boris Herrmann and Pierre Casiraghi, instigator of the project and founder of Team Malizia. The skipper and YCM Vice-President looked back over the round the world race completed in 80 days 14 hours 59 minutes and 45 seconds.
A Vendée Globe born out of friendship
"After we met several years ago during the Cape2Rio, we sailed together many times," said Pierre, "so it was very emotional for me to see him on the start. I look back at all the times we went through to get there and it always moves me. Boris did not just do the job of a skipper. He worked on the budget, choice of naval architects, logistics (…) he spent six years managing a lot of aspects directly linked to the race." A friendship summed up by Boris: "Embarking on the Vendée Globe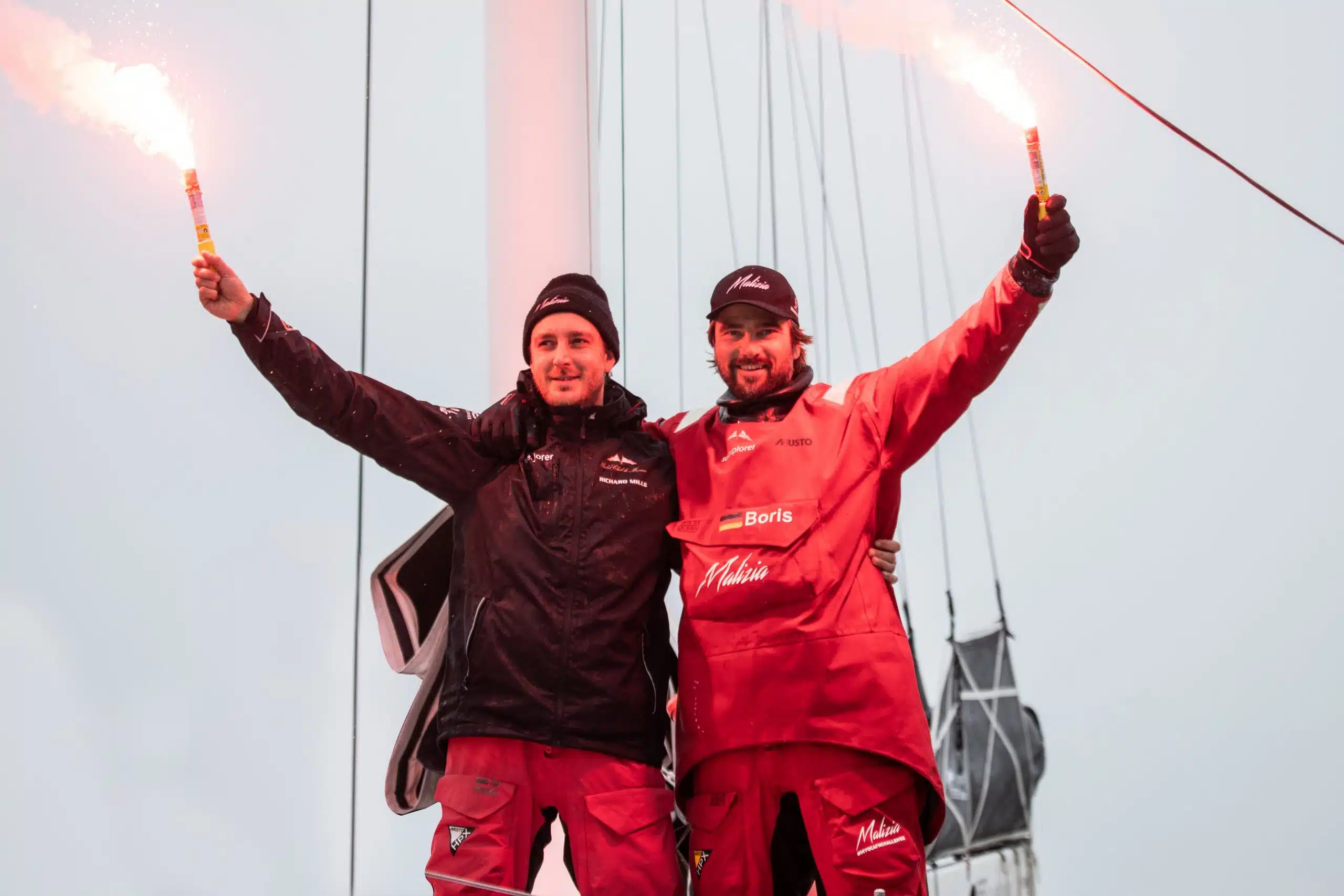 A challenge that can't wait
A Race We Must Win adorns the sails of Seaexplorer-Yacht Club de Monaco, the IMOCA that flew the Principality's flag around the world, bearing this slogan expressing the urgent need to take action on climate change. Boris Herrmann's Vendée Globe was not just a sporting challenge but also one of the environment, as he explained: "We faced huge tropical storms in this Vendée Globe as we approached the Canaries which was an unexpected surprise. But I think the most flagrant proof was the presence of Sargassum seaweed in the Atlantic, enough to sometimes stop the boat, and that is actually quite scary. The real problem is in the changes you cannot see, like the increases in water temperature or level of CO2 concentration. When you see all this, you realise there is absolutely no time to waste to act."
Science goes offshore
As a member of UNESCO's Intergovernmental Oceanographic Commission, the German sailor's goal was to collect vital data all the way round towards a better understanding of climate change. It was a first. To achieve this mission he had a fully automated laboratory on board, operating 24/7 throughout his epic voyage. The data collected was being transmitted to scientific programmes at the Max-Planck Meteorology Institute in Hamburg, Géomar in Kiel and IFREMER in Brest. The data has already revealed increases in CO2 off Brazil and also New Zealand. Pierre Casiraghi is fully informed on this environmental angle: "We had to be sure the laboratory would work. The IMOCAs were going to be sailing in areas where there is very little traffic. The more data there is the easier it is to establish conclusions.  It is essential for us all to do what we can to protect the oceans for future generations".
On the 10th day into his race, Boris Herrmann also deployed an Argos scientific data collection system and beacon, transmitted by Ocean OPS. "It's great to be able to contribute in this way to ocean science. It is really essential for us to make the boat available to scientists to help them better understand climate change and our oceans. The beacon will drift for many years, sending data live back to scientists. It is measuring temperature, salinity and pressure from the surface down to 2,000m and transmits data back automatically," said the skipper. "I am excited for the future. I am a skipper and have never felt like I was doing a normal job". The future will tell us what other projects the German sailor will sail towards.